Friday evening, April 5th from 5-7pm we host an all you can eat pasta dinner for runners and guests. Everyone is invited. No reservations required. Pay at the door. Cash or Credit Cards accepted. The pasta dinner is located, in the Recovery Tent, in parking lot #6.
Pasta All You Can Eat Dinner Cost:
Adults – $15
Age 6-12 – $8.95
Kids 5 and under – FREE
Kids in the Kids Marathon eat free with a paying adult.
Click below on the Pasta Dinner and Concessions Menus for details and menu options: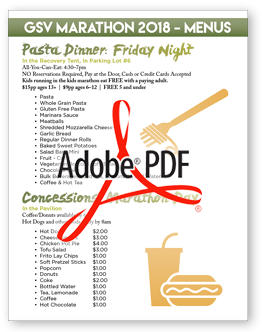 1/2 Marathon & 10K Expo
 The Garden Spot Village 1/2 Marathon & 10K Expo is free and open to the public, Friday evening, April 5th. The Expo features local vendors and exhibitors, from Amish crafts to whoopie pies for sale, open from 4-7pm located at the same tent as the Pasta Dinner.
2018 Friday Night Vendors
Bird In Hand Road Apple
Cavallo Chiropractic Clinic
Downingtown Running Company
Emma's Popcorn
Homemade Baked Goods
Make a Sign! Support & Motivate
Marathon Merchandise
NovaCare Rehabilitation
Orchard Hill Woodcrafts
Pasta Dinner check in
RunPA.org
RUseeN
T-shirt Quilts
Tri County Chiropractic
USA Kangen Water
Upcoming races info table
Word from the Wise – Inspirational Running Apparel
Beanie Bands
Bird In Hand Road Apple
CURE
GSV Library Book Sale
Hydra Pouch Demo Zone
Make a Sign! Support & Motivate
Marathon Merchandise
Massage Therapist
Rehab Center
Shady Maple
Spooky Nook Sports
Upcoming races info table
* Note: Can't emphasize this enough. Try nothing new on race day. Minimize the unknown variables and race only with the clothes, shoes and nutrition you used in your training. After putting in all that effort training it would be terrible to end up with blisters from improper fitting shoes, or chafing from a shirt or an upset stomach from a nutrition bar that your body doesn't like. Buy things to be used after the race.